Ghost Pianos - User Manual
Ghost Pianos Ableton Live rack user guide and tips and tricks.
Downloading and Installing
Once you've purchased Ghost Pianos, you will receive an email with a download link. If you have a Gumroad account, it will be listed under your downloads.
Please make sure to select the download that corresponds to your version of Ableton Live (Live 11.0 / 11.1). Note that the 11.0 version is not compatible with Live 11.1.
The Live pack download is in the ALP format. Double click on the ALP file or drag and drop it anywhere in Live to install the Pack. You will find  the following files in the install location.
Ghost Pianos Project/
├─ Instrument Rack/
│  ├─ Ghost Pianos.adg
├─ MIDI Effect Rack/
│  ├─ Ghost MIDI.adg
│  ├─ Tiny Dance Party.adg
├─ Ghost Pianos Demo.als
To use the rack you will need to have installed the Max for Live Essentials pack. This comes free with Ableton Live Suite.
---
Devices
Ghost MIDI (MIDI Effect Rack)

A, B, C, D - Controls the patterns used by the MIDI effect rack. You can choose from 4 different patterns for each chain.
Vel Range - The upper range of output velocities (0 - 127). Lower values will trigger only low-velocity layers while higher values will utilize the full range.
Vel Curve - Velocity modifier curve. Negative values will give a softer velocity curve and positive values will result in a hard curve.
Vel Random - Amount of randomness added to the velocity output
Delay Feedbk - Amount of feedback on MIDI delay applied by 'Straight Mix' and 'Triplet Mix'.
Straight Mix - Mixes in straight a half note MIDI delay
Triplet Mix - Mixes in Triplet delay
High Notes - Randomly adds notes an octave above. Use this for more variation.
Low Notes - Randomly adds notes an octave below. Use this for more bass notes.

Ghost Pianos (Instrument Rack)
Ghost Pianos is basically two of the above 'Ghost MIDI' racks in parallel: one each for the Left and Right sides. This creates a stereo effect, which works really well with acoustic instruments (specially pianos).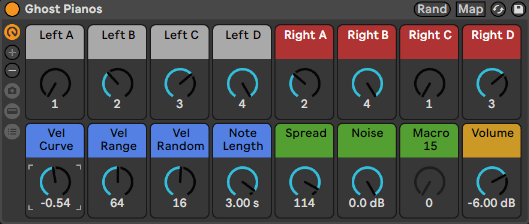 All the knobs do the same things as the Ghost MIDI rack.
Spread - Determines the width of the stereo field.
Noise - Controls the volume of an additional piano noise layer, which can be added manually.
The rack used the default Ableton Grand Piano out of the box. You can get a better sound by changing it to a characterful multisampled piano (e.g. Spitfire Audio Originals Felt Piano)
Tiny Dance Party (MIDI Effect Rack)
A stripped-down version of the Ghost MIDI rack. Suitable for 'fatter' sounds (e.g. Synth Keys). The knobs have the same functionality as the above racks.
---
Tips and Tricks
Recording to MIDI
Once you have finalized the role of the rack in your production, it is recommended to record it as MIDI. This will prevent any further randomization and unexpected output while exporting.
To do this, create a new MIDI track and route the MIDI from your rack to the new track. Select the appropriate output and record. Note that ghost pianos will require two MIDI tracks since the MIDI in the left and right channels are different.
Using velocity-sensitive instruments
A large part of the texture produced by these racks comes from velocity variations. Therefore it's important that you choose a velocity-sensitive sound for the output. Multi-sampled instruments work best here because the sample also changes with the velocity, giving it more variation.
---
If you need further assistance, feel free to contact reach out to support@erasednotes.com.