Maximizing your Epic Music Career - Insights from a Composer
Five tips from the MIDImalist - a book on how to produce decent sound using minimal resources
This article is based on a book titled "The MIDImalist", which is the latest publication by the epic music composer Seven Tears of Hope. The book is intended to provide some useful insights for aspiring musicians and producers who want to start making first money off the music industry but may only have limited resources at their disposal.
The topics covered include how to produce decent sound using minimal equipment, how to efficiently work on your music while maintaining a day job, and also how to license and monetize your music through streaming platforms. Whether you're a beginner or have some prior experience, you will have something to gain.
Getting Inspired
Finding inspiration for your music is crucial for staying creative and motivated. There are many sources of inspiration that you can draw from, a few are listed below.
Music that you listen to
Other forms of art, such as dance and visual art
Your life experiences
Stories and experiences of other musicians
Associating with like-minded people
It is important to keep an open mind and be willing to try new things when seeking inspiration. Experiment with different approaches to see what works best for you. While inspiration helps, it is also important to remember that it won't replace a strong will and work ethic.
Get Constructive Feedback
Once you have a rough draft of your track, it is a good idea to seek feedback from others. This can help you identify any changes that you should make to improve the track.
There are many different ways to get feedback, such as sharing your rough draft with friends or family, seeking the input of more experienced musicians, or even posting your track online and asking for feedback from a wider audience. When seeking feedback, it is important to be open to constructive criticism and to consider the suggestions of others carefully.
Use Free Resources
As an aspiring music producer on a budget, it is important to know that there are many free resources available to help you take your productions to the next level.
One way to save money is by taking advantage of free plugins and libraries that are available online. Additionally, there are many YouTube channels and websites that offer tutorials and tips for music production, many of which are free.
It is also important to remember that good music does not necessarily have to be expensive. With a little creativity and resourcefulness, you can create high-quality tracks using only the resources that are available to you.
Choosing Artwork
The artwork is a very important part of the music you make. When choosing artwork for a track, it is important to consider the style and mood of the music. The artwork should visually represent the track and capture the essence of the music. If the track has a specific theme or concept, the artwork should support that theme.
It is also important to consider the target audience for the track when choosing artwork. The artwork should appeal to the listeners you are targeting and help them connect with the music. Finally, the artwork should be of high quality and visually appealing. Poorly designed or low-quality artwork can reflect poorly on the track and make it less appealing to listeners.
Promote your Music
Promotion is a crucial aspect for a music artist because it helps to increase their visibility and reach a wider audience. By promoting their work, artists can attract new fans, get booked for gigs, and ultimately build a successful career in the music industry. It is important for artists to be proactive in promoting themselves and their work in order to stand out in a crowded market and achieve their goals.
It is important to have a plan in place for promoting your track and getting it in front of potential listeners. Here are a few ideas you can use to go about promoting your track.
Social media posts
Email campaigns
Working with music blogs or playlist curators
Creating videos or trailers
Collaborating with other artists or influencers
Performing live shows
By using a combination of these tactics, you can effectively promote your track and attract new listeners.
A Message from Seven Tears of Hope
Dear reader,

I'm glad that you found this blog and took the time to visit. The MIDImalist is a valuable resource for anyone who is just starting out in music production and looking to make the most of their limited resources. In this ebook, I share my personal story of hope and the steps I took to earn my first income from making. I know firsthand how challenging it can be to navigate the early stages of any creative or entrepreneurial pursuit, which is why I wrote this guide.

If you are feeling overwhelmed or unsure of how to move forward, the MIDImalist is here to help. It is filled with practical tips and advice to get you on the right track and achieve the success you desire.

To your success,  
Sincerely,
Seven Tears of Hope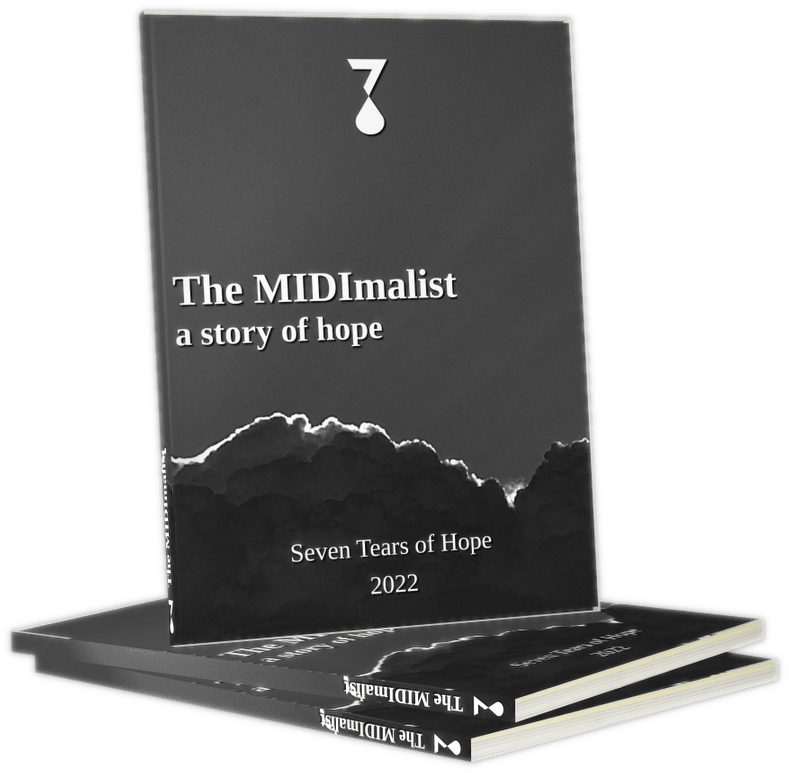 The MIDImalist - A Story of Hope
Introduction
Getting the first track done (The DAW, The instruments, The room)
A new DAW (Creating the brand, Collaborating, and showing yourself to the world, The importance of feedback)
Writing a track (Epic music and the orchestra, Inspiration, Composing, Mixing, Mastering, Bad playback devices)
Licensing your work (The production process, Your next steps, Bonus tip, Upgrading)
The unspoken challenges (Frustration, A healthy schedule, Final thoughts)
Overview of the available resources (Free libraries, Affordable libraries, Useful YouTube channels, Useful websites)
Get it Now
🎫
You can get 10 percent off the MIDImalist at checkout with the coupon code ERASEDNOTES23